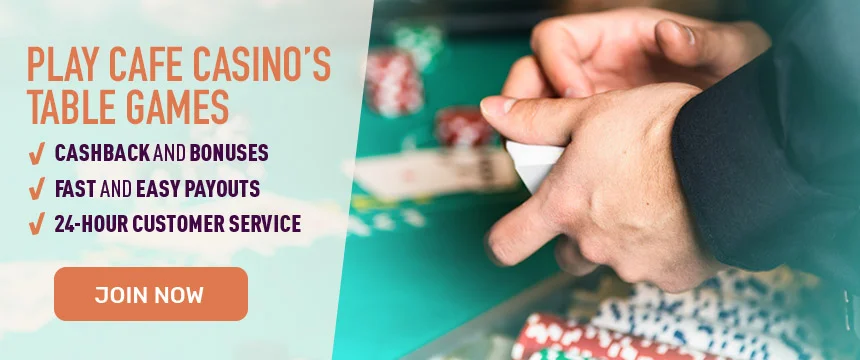 It's often said there are two types of people in the world. When it comes to live casinos, you'll usually find one type of person playing slots (along with Video Poker, and other electronic or mechanical games), and the second type playing online casino table games. Many players switch back and forth, but as a general rule, the tables games attract a different kind of person.
Thanks to the internet, there's no more line of distinction between the two. You can play all the same table games (and more) at Cafe Casino that you'll find at bricks-and-mortar establishments, without having to worry about casino etiquette or dealing with rowdy customers. We'll show you which of these table games are the most popular, and how they got to be that way; we'll also help you decide which of these great games is right for you.
Casino Table Games Overview
The distinguishing feature of table games at the live casino is the presence of someone who's working for the house. It could be a dealer, if you're playing a card game, or a croupier for Roulette and Craps. Some games will have more than one of these workers at the table; other employees may be called on from time to time to give assistance.
Table games are as old as the casinos themselves. Gambling has been around since ancient times, and while pinpointing exactly when the first gambling houses were organized is impossible, the first European establishment on record was Il Ridotto (literally "The Private Room"), which started up in Venice in 1638. The games available included biribi, a lottery game similar to Keno, and basetta, which has many of the same elements as Blackjack. Basetta was by far the game of choice at Il Ridotto, with players interacting and socializing while at the table.
Sadly, Il Ridotto was closed in 1774 due to reforms, but other casinos would take their place throughout Europe and the world – including in America, where riverboat gambling and the first saloons would spread table games from New Orleans to San Francisco. Faro, a descendent of basetta, was the most popular of these games during the 1800s, before poker took its place.
Technically, poker itself is not a table game, since it's not you against the house – it's you against the other players, with the casino collecting a fee based either on how long you play or how big the pots get. But there are many poker-based table games you can play. We'll introduce you to the most popular of these games in a moment.
How to Choose the Right Table Game for You
Choosing the best table games to play usually boils down to your personality type, and your bankroll. Table games fit into three categories: card games, dice games, and Roulette. For pure excitement, nothing beats Craps or Roulette. If you prefer a game that involves some strategy, card games have you covered – although some of these games require more strategy than others. Generally speaking, the more strategy there is, the lower the house edge will be, so again, card games should be your preferred choice if you're trying to stretch your entertainment dollar. Having said that, Craps does offer some of the lowest house edges at Cafe Casino, as we'll discuss shortly.
Now it's time to introduce you to the table games themselves. Whatever type of player you may be, one of these great games should be right up your alley.
This is the card game that James Bond played in the earliest Ian Fleming novels and films. When you play Baccarat for real money at Cafe Casino, you're playing a slightly different version known as punto banco, where you don't have to make any decisions at the table – everything is done automatically, based on the cards. Despite the lack of strategy, Baccarat offers very low house edges, as low as 1.06% for the Banker bet.
More people play online Blackjack than any other table game at the casino. This classic card game has been around in some form for centuries; it's similar in many ways to Baccarat, but this time, there's plenty of strategy involved. And thanks to computers, the optimal strategy for each Blackjack variant has been solved. If you play Single Deck Blackjack at Cafe using the optimal strategy, you can even lower the house edge to around 0.17%.
Are you ready to roll the bones? Not only will you be playing one of the most exciting games of them all when you play online Craps for real money, you'll also have access to some of the lowest house edges available. The standard Pass Line bet has a house edge of 1.41%; once a "point" has been established during this bet, you can take odds and increase your bet by up to 3X, without any additional house edge attached.
Introduced by Sam Torosian in 1985, Pai Gow Poker is a simplified version of the Chinese dominoes game called pai gow, but Torosian's version uses playing cards instead of tiles. In a round, you get seven cards and split them into a 5-card hand and a 2-card hand, trying to make higher-ranking poker hands than the Dealer. When you play Pai Gow Poker online using the optimal strategy, you can whittle the house edge down to around 2.52%.
Finally, we have arguably the most beautiful table game at the casino. Play Roulette online at Cafe using the Classic format, and you'll get all the sights and sounds of the Roulette wheel. The "New" format will give you a sleek modern layout that's easy on the eyes. Two types of Roulette are available: American Roulette, with the double-zero (00) on the wheel and a house edge of 5.26%, and European Roulette, with just the single-zero (0) and a house edge of 2.70%. No strategy is required for either of these games, so sit back, watch the wheel go 'round, and we'll see you at the tables.