BECOMING A CAFE CASINO AFFILIATE MEANS:
Revenue share up to 45%.
Reliable, Regular Commission Payments.
Unlimited earning potential.
Cafe Casino's Affiliate Program offers you a great revenue stream and is super easy to use.
Boost your earnings with Cafe Casino's Affiliate Program. The more traffic you send to us through your website, the more you earn – with the potential for a lifetime of recurring revenue.
CAFE CASINO IS GREAT FOR AFFILIATES
Cafe Casino offers some of the biggest bonuses available anywhere – making it one of the most popular destinations for online casino players. Our affiliate program is just as generous, and we make it easy for you to sit back and earn great real money. And our experienced team of account managers will help you every step of the way, so you can get the most out of your site and into your bank account.
SIMPLE AND STRAIGHTFORWARD
We make it easy for you. The more depositors you send our way, the more you earn. And you share in all the revenue achieved from your traffic.
COMMISSION STRUCTURE
There are two different commission options available:
A) Revenue Share Commission (up to 45%)
You can earn up to 45% of net revenues from the casino depending on the total number of new depositing players per calendar month. If the number of new depositing players eclipses 251+ in a calendar month, you'll earn 45% of your casino and poker Net Gaming Revenue (NGR) for that month.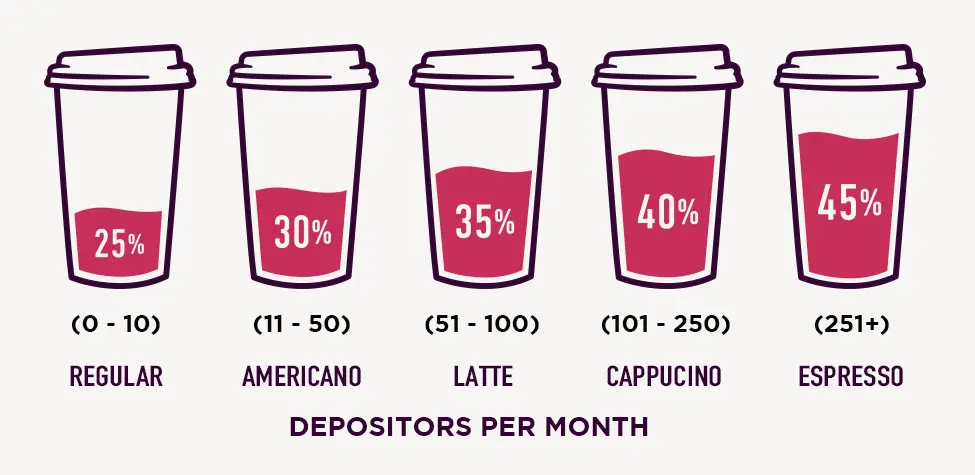 B) Cost Per Action (CPA) deals (to select affiliates only)
To see whether you qualify for the CPA model, once you create your affiliate account you can contact a member of the management team at Cafe Casino.
ALL THE INFO YOU NEED
With Cafe Casino, you'll always know where you stand. Our detailed reporting tools show you everything affiliates need to know, from Sign Ups and Depositing Players to NGR and Commissions. You can choose which reports to use and you can see your stats from a top-line view, or get into the details as much as you want. Cafe Casino's reports are designed to help you optimize and maximize your commissions.
BETTER PAYMENTS WITH USDT
Cafe Casino issues its affiliates' commission payments in USDT. As an Affiliate, you can now benefit from this secure payment method.
QUESTIONS?
Have a look at our FAQ section
Cafe Casino lets you sit back, relax, and watch your bank account grow – become an affiliate today.