There's something magical about spinning a roulette game wheel at a Real Money Casino/ Bitcoin Casino. The sound of the whirling ball falling into a numbered slot is enough to get people's adrenaline pumping even in Mobile Casino Sites. But it's not always possible to get out to the casino, especially when only a short time frame is available. Fortunately, you can play table games online at Cafe Casino.
To get started, you need to Join Now and set up an account with us. We are a Real Money Casino, Bitcoin Casino, Casino Online, and Mobile Casino Site. We welcome players from all over the USA, with the exception of Maryland, New York State, and New Jersey. After setting up your account, you can make your first deposit and take advantage of a generous Welcome Bonus in our online casino. Once you've got your bankroll ready, go to the Table Games or Blackjack section for a list of everything we offer.
In the Table Games section, you'll see the same gambling games you'd find at a brick-and-mortar casino, with a couple of extra games exclusive to online casinos, Real Money Casinos, Bitcoin Casino, Casino Online, and Casino Bonus Code. Baccarat, Blackjack, Roulette, Craps, and Pai Gow Poker are a few examples of the games you'll find at both physical casinos and Cafe Casino, whereas Caribbean Hold'Em is found online only. In this guide, we'll go over how to play some of our more popular table games and introduce you to some brand-new additions that we offer online at our casino table.
How to Play Blackjack
Blackjack is the most popular table game in our online casino, Bitcoin Casino, and all over the world, and that's why we have nine different Blackjack games that range from one deck to six decks. No matter which game you play, the goal of Blackjack is the same: beat the casino Dealer by building a hand with a higher score than him—up to a maximum of 21 points. If you or the casino Dealer go over 21 points, the result is a bust, with the person who bust losing the round.
Adding up your Blackjack score at the game table is simple enough, as cards 2 to 10 are worth face value. Face cards are worth 10 points. Aces work in wonderful ways, as they start off as 11-point cards, and then convert to 1 point in order to prevent a bust. For example, if you had an Ace and Four for a score of 15, hit and were dealt a Seven for a score of 22, the Ace would convert to 1 point, giving you a score of 12. Getting dealt an Ace and a 10-value card right off the bat is considered "Blackjack"—an instant win that pays 3:2.
When you don't get a Blackjack (which is the majority of the time), there are four game options to choose from in order to build your hand from the Best Online Casino. You can request more cards (hit) at the game table, double your original bet and receive just one more card (double), split your cards into two separate hands if you were dealt a pair (split), and forfeit the round to retrieve half of your bet (surrender). When you're ready to face off against the casino Dealer, you want to Stand; you may decide to do this right away or after adding extra cards to your hand. Do your best to build a competitive hand, while also mitigating the risk of busting.
How to Play Baccarat
With high betting minimums at most land-based casinos, Baccarat may look intimidating to outsiders, but it's really as simple as a coin flip. Punto Banco, which is the table game version you'll find in our online casino/ Bitcoin Casino, pits two opponents against each other: The Player and the Banker. They will each try to outscore each other with two- to three-card hands dealt from a six-deck shoe. The one with a score closer to 9 points wins. Your sole move is to decide who to bet on beforehand: the Banker or the Player. Alternatively, you can bet that both will tie for a 9:1 payout. The Dealer follows a standard set of rules for dealing both sides two or three cards each.
Knowing a bit about the dynamic between the casino Banker and game Player will help you make an informed decision at the Baccarat tables. The Banker enjoys a positional advantage over the Player; he plays second, and his moves depend on the Player's score. The Player goes first, and always stands with a score of 6 and above and is dealt a third card for scores of 5 and below. Although the casino Banker wins more rounds than the Player, no 5% commission is deducted from the Player payouts, as is the case with the casino Banker payouts. When there's a tie, both the casino Banker and Player bets push.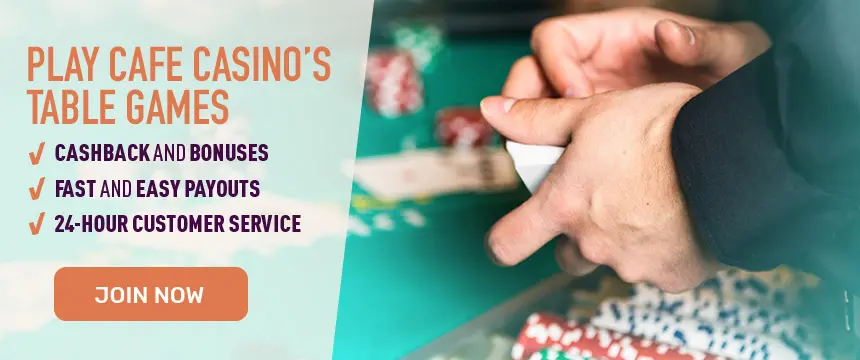 How to Play Craps
Every round of Craps has a shooter engage a series of rolls that resolves bets placed on the betting layout. When you play online, you're always the shooter, and there are one or two segments to round depending on what you roll. The first roll is known as the come-out roll, and if it is a 2, 3, 7, 11, or 12, the round is concluded with instant wins or losses depending on what you bet.
However, if the come-out roll is a 4, 5, 6, 8, 9, or 10, you move into the second segment of the round, and whichever number you rolled becomes the Point. Once a Point is established, you are going to continue rolling the dice until you re-roll the Point or roll a 7, at which point the round ends. For a straightforward introduction to Craps, use the Pass and Don't Pass bets, and once you become more familiar with the game play, begin to introduce Come and Don't Come bets, which initiate a mini round with a second come-out roll. Don't forget to lay and take odds to take advantage of one of the only casino zero-house edge bets in the casino.
How to Play Roulette
European Roulette has a wheel with numbers 0 (and 00 if you prefer to play American Roulette) to 36 on it, with each number being colored black, red, or green. A betting layout comprises all the same numbers in addition to bets that group numbers together under a single bet, like Odds and Evens, Reds and Blacks. Simply place bets on the betting layout, and then roll the wheel. A ball will be launched around the wheel and will land on a single number; if you have money on that number, you win.
In general, there are two approaches to Real Money Casino Roulette: win big with low odds or win modestly with high odds. To win big, you'll want to stick to inside bets, which are either single numbers or groups of six or fewer numbers. Outside bets have higher probabilities of winning, as they group together 12 or 18 numbers.
Other Table Games
We have plenty more casino table games than Roulette, Craps, Blackjack, and Baccarat in our casino. Browse through the Table Games section, and you'll see several games based on poker, including Tri Card Poker, Let 'Em Ride, Caribbean Stud Poker, Caribbean Texas Hold'Em, Pai Gow Poker, and two versions of Teen Patti. Most of these poker-based games pit you against the Dealer in a battle for the stronger poker hand; however, both Let 'Em Ride and Teen Patti remove the need for an opponent by offering a payout system based on the strength of the hand you're dealt as opposed to your ability to beat the Dealer.
If you prefer dice games over poker, you'll appreciate the new addition of Roll the Dice, which is based on the Chinese dice game Hoo Hey How. Simply bet on any combination of seven icons, including getting Any Triple, and roll the three dice. You could win up to 30X your bet. Other table game options include Spin the Wheel, which is a simplified version of Roulette, Andar Bahar, which pits two opponents against each other as they play until they reach a specified card, and a Vegas version of three-card Rummy that offers up to 100:1 in payouts.
Regardless of which online game you start with, you'll see the same three buttons on the online game card: Real Play, Practice Play and Full Description. Full Description provides an explanation of how the game works and what the payouts are. You can get another explanation in the game menu of the game itself. Real Play will let you wager and win real money, and Practice Play lets you play for fun, which is another big benefit to playing online—especially when you want to test a new game or games before committing your bankroll.
In our online casino, table games are extremely popular, so we work hard to ensure your online table game experience is as pleasurable as it would be in a physical casino. Take our roulette wheel challenge: Hit spin and close your eyes. We bet you'll get the same chills that you'd experience from a physical wheel – in a more convenient online format.