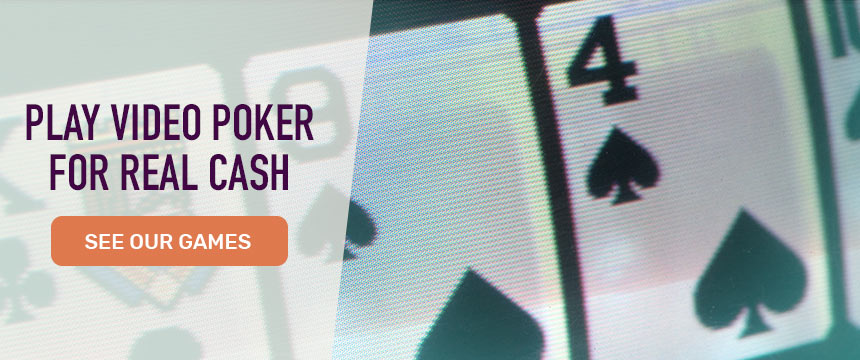 Poker might be the greatest game ever invented – but it's not for everyone. Video poker, on the other hand, is a game that anybody can sink their teeth into. There's no social pressure to worry about, and the game itself is much easier to learn than No-Limit Hold'em. All you need to do is make one decision: Which of your five cards will you keep?
We'll help you make that decision. Cafe Casino is the right place to be for online video poker; we have the most popular games ready and waiting for you, and in this guide, we'll show you how to get the most bang for your buck when you're playing online video poker for real money. It only takes a few minutes to learn how to play video poker, but if you take a little extra time to work on your strategy, you'll be rewarded with one of the lowest house edges you'll find anywhere.
Introduction to Video Poker
Well before the poker boom of the mid-2000s, there was a video poker boom. It all started in 1979 when Draw Poker was released; this simple game of 5-Card Draw became a smash hit, spreading to casino floors all over the world. Customers who felt intimidated about dealing with casino staff or other players flocked to these machines. Now that we have online video poker, it's even easier to play the game whenever you like, from the comfort of your own home or while you're on the go.
What Is Video Poker?
Instead of competing against other people, when you play video poker, you simply make the best 5-card poker hand possible, and you get paid according to the strength of your hand. All the games are based on 5-Card Draw, where you get dealt five cards and have one opportunity to discard as many of them as you want. Once you draw and get your new cards, that's it – the round is over, and you get paid if your hand is strong enough.
Cafe Casino is proud to offer 17 different ways to play online video poker for real money. This includes 11 different games, two of which come in a variety of flavors. The classic video poker game is Jacks or Better, where you get a prize anytime you have at least a pair of Jacks in your hand. You'll also find the following games on the menu:
Bonus Poker
Bonus Poker Deluxe
Double Bonus Poker
Double Double Bonus Poker
Double Jackpot Poker
Double Double Jackpot Poker
Deuces Wild
Bonus Deuces Wild
Loose Deuces
Joker Poker
In addition, both Jacks or Better and Joker Poker let you choose how many hands you want to play during a single round: one hand, three hands, 10 hands, or 52 hands. That's 17 different games in total at Cafe Casino, each with a different twist – try them all and see which ones work for you.
Video Poker Basics
The beautiful thing about video poker is how easy it is to play. It's very much like playing the slots, but there's also just enough skill involved to keep you coming back for more. The mechanics are simple – place your bet, then receive your five cards, and decide which (if any) you want to keep. Once you understand the rules, you can even figure out the right strategy for the specific game you're playing. But first, there's another important piece of information you need: the paytables.
Paytables and Returns
When you fire up a video poker game at Cafe Casino, you'll see the list of payouts directly on your screen, above the space where your five cards will be dealt. The payouts go up as the strength of your hand increases; you also get paid more when you insert more virtual "coins" into the machine. You can bet anywhere from one to five coins at a time, and the coin in question will be whichever denomination you choose from the available list. For example, when you play Joker Poker, the coin can be 5 cents, 25 cents, 50 cents, $1, or $5.
The payouts listed in the table will determine what the return (or payback percentage) for each video poker game will be – if you play your cards right and use the optimal strategy. When you play Jacks or Better at Cafe Casino, you can get a return as high as 99.54%, which leaves just 0.46% for the house edge. That's even lower than most of the Blackjack games you'll find at the casino, but again, you have to make the right plays to maximize your return.
Figuring out the right plays in video poker requires a little math – although the computers have already done that, which we'll get to in a moment. First, you need to know the poker hand rankings for the game you're playing. Then you can look at the probabilities for making those hands, and use the paytable to assess the risk/reward for each play.
Learn the Poker Hands
Since all the games are based on 5-Card Draw, using (mostly) the standard 52-card deck, video poker uses the same poker hand rankings that most of us are familiar with:
Royal Flush (Ace through Ten, same suit)
Straight Flush (five consecutive cards, same suit)
Four of a Kind (four cards of one rank)
Full House (three cards of one rank, two cards of another)
Flush (five cards of same suit)
Straight (five consecutive cards)
Three of a Kind (three cards of one rank)
Two Pair (two cards of one rank, two cards of another)
Pair (two cards of one rank)
You'll notice that we haven't included "High Card" at the bottom of this list. That's because every video poker game requires you to make at least a Pair to win a prize. With Jacks or Better, you need at least a Pair of Jacks – just like the name says. With Loose Deuces, you need to make at least 3 of a Kind to get paid.
In addition to the above hand rankings, some video poker games include Wild Cards, which allow you to make even more powerful hands. In Loose Deuces, all four of the Deuces are Wild, giving you three added hands that rank in between the Royal Flush and Straight Flush: Four Deuces, Wild Royal, and Five of a Kind. Joker Poker even uses a 53-card deck with the eponymous Joker included. The highest-ranking hand in this game is a Sequential Royal, where the cards have to be Ten-Jack-Queen-King-Ace in that exact order.
Video Poker Probabilities
As you may have already figured out, the highest-ranking hands are also the toughest ones to make – which is why they pay the most. The exact odds for making each hand will depend on which game you're playing (the 53-card deck in Joker Poker changes the math somewhat) and how many cards you keep after the first deal. You could try to do the math in your head while you're playing, but unless you're a savant, it's not going to be practical.
Video Poker Lessons
That's where the computers come in handy. You can use an online video poker calculator to determine the right strategy for any game you play; plug in the numbers you see on the paytable, and the calculator will do the rest, providing you with a step-by-step chart that will help you decide the best moves to make with the cards you've been dealt.
These charts can get pretty detailed, though. The optimal strategy for Jacks or Better asks you to compare the strength of your five cards to one of 36 possible ranks, everything from a dealt Royal Flush where you keep all your cards, down to a "trash" hand where you have to discard all five. Then you'll find the highest rank on the list that describes your cards and proceed accordingly. For example, if you get dealt four cards to a Straight Flush in Jacks or Better, but the fifth card also completes a regular Straight, the recommended strategy is to cash in your Straight now instead of going for the bigger payout.
There are also a number of exceptions included in the optimal video poker strategy that have to be followed to the letter in order to maximize your return. It's a bit complicated, enough so that beginners are recommended to use a simplified strategy instead, one that contains about half as many steps to follow while capturing almost as much return as the optimal strategy. Keep it simple at first, then start making the right tweaks to your strategy as your video poker skills improve.
Now that you know a bit more about video poker, including the history, the rules and how to build the right strategy, it's time to put your skills to the test. Try any of the 17 video poker games at Cafe Casino for free using the Practice Play mode, then jump in and play the Real Money games once you're ready. Don't forget to keep coming back for more articles and advice on how to play video poker like a boss, and most of all, have fun playing.