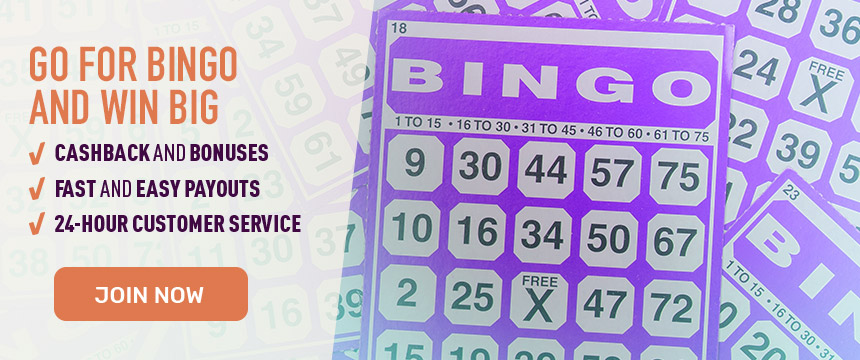 The great parlor game of Bingo is available right here at Cafe Casino – and you won't get any ink on your hands, either.
No need to go out to the Bingo hall for an afternoon of fun. We've got everything you need to play real money Bingo online, right from your desktop or mobile. If this is your first time playing this popular game at Cafe Casino, don't sweat. We cover everything you need to know to about Bingo to play like an expert.
The game of Bingo can be traced to an Italian lottery game called Il Giuoco del Lotto d'Italia, which was around in the early 1500s. Similar games would pop up throughout Europe, including France, where Le Lotto was first played in 1778. It wasn't until the early 1920s that Hugh J. Ward created a standard US version of Bingo, and then a toymaker named Edwin Lowe helped spread the game by producing the Bingo cards that remain familiar to this day.
The rise of the internet allowed people to play Bingo specialty games online by the mid-1990s. One of the first games from this early era was The Bingo Zone, which started in 1996; users could play for free alongside other members of the online community, and win up to $20 for making a Bingo. Another game called Bingo Blitz became popular starting in 1998. It wouldn't be long before dozens, then hundreds of different Bingo games flooded the internet.
The spread of real money Bingo online is due largely to the growth of the internet itself. The technology has improved to the point where just about everyone is on the information superhighway. Legislation has a lot to do with it, too. In many parts of the world, Bingo is still treated as a lottery rather than a casino game. That allowed Bingo to get an early foothold on the internet, and spread to places where standard casino table games couldn't.
Online players also enjoyed playing popular Bingo games at home, without having to travel to a Bingo parlor. At one time, you could find these parlors everywhere, but they've largely disappeared – the decrease in smoking played a big part in their demise. As part of the transition from bingo parlors to online bingo, you no longer have to worry about those ink "daubers" that players used to mark their cards. And you can even play online Bingo at Café Casino using your mobile device, allowing you to play anytime, anywhere.
Modern Bingo is still a basic form of lottery that revolves around a pre-set range of numbers. As a Bingo player, you buy one or multiple cards that show these numbers contained inside a grid. For example, European Bingo (also known as 90-Ball Bingo) has cards containing 15 numbers, printed on a 3X5 card, that range from 1 to 90 inclusive. American Bingo (aka 75-Ball Bingo) uses a 5X5 card featuring the numbers 1 to 75, plus the famous Free Space in the middle, marked by a star.
The first step to playing Bingo is choosing how many cards you want to play at the same time, and at what cost. For example, each card in American Bingo can cost a penny, nickel, dime, quarter, 50 cents, or one dollar. With some versions of Bingo, you also get to pick how many numbers you want drawn. When you're ready to start the action, Step No. 2 involves hitting "Play" or "Buy Cards," after which the Bingo numbers will be drawn at random. Every time one of your numbers is drawn, it gets crossed off automatically. If you hit enough numbers to form one of the game's winning combinations, you win a payout – the more difficult it is to complete a combination, the higher the payout will be.
Playing Bingo is as low-pressure as casino games come, and that's why it has such a big following. Go ahead and take a look at all the different types of Bingo games available at Cafe Casino. There's everything from traditional 30-Ball Bingo to themed versions with bonus features.
Looking for some tips to help you get winning with online Bingo? You've come to the right place. The first thing to understand is that Bingo is a game of pure chance that should be played for entertainment purposes only. Winning money on top of that is nice, but you won't get rich in the long run; every Bingo card has a house edge attached, just like table games such as Roulette and Craps.
Having said that, you can stretch your entertainment dollar at Cafe Casino by choosing which Bingo games to play. If you like American Bingo, you'll get the lowest house edge (5.51%) by drawing 55 balls. Drawing 45 balls will generate a house edge of 6.29%, and for 35 balls, the edge is 6.22%. Even better, if you draw 55 balls in European Bingo, you'll get a house edge of 3.38%.
Playing the Bingo games with the lowest house edge will allow you to extend your Bingo sessions as long as possible, on average, without changing how much you spend on each card. So how much should you pay for each card? That will depend on the size of your bankroll, and how much Bingo you want to play. Once you know the house edge for your chosen Bingo game, and how long it takes to play, you can work out how expensive each card should be for your average session to last a certain amount of time.
In general, we recommend purchasing the same value card for each Bingo game you play during a single session. This will help you control how much time and money you spend; never chase losses by increasing the card price mid-session. Because Bingo is a game of chance with a house edge attached, there are no betting systems you can use to make a profit in the long run, so don't fall for anyone trying to sell you one of these systems – no matter what game you're playing at Cafe Casino.