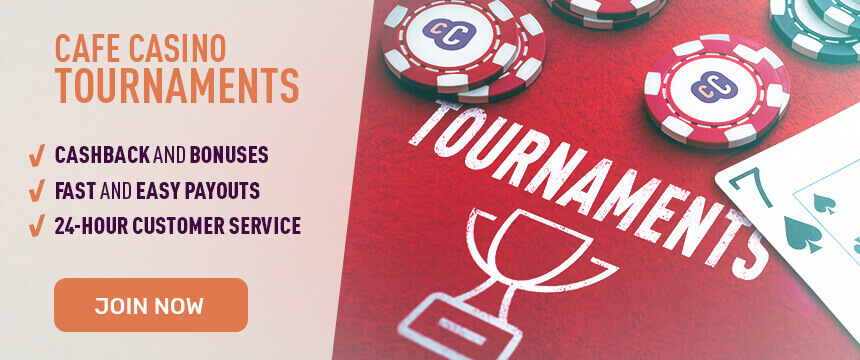 If you already enjoy playing our online casino games, you'll also enjoy taking part in our online casino tournaments. These events are the best to bring together groups of like-minded people and set them up with a common goal: achieve more wins than anyone else in the designated timeframe. The three players to succeed are awarded prizes on top of getting to keep all the payouts won throughout the gaming session. Think of it as a good spirited competition.
What are Casino Tournaments? How do they Work?
A casino tournament is a competition between online casino players to see who can achieve the most wins in a designated timeframe. Wins are tracked using point systems that award points based on the quality of the win. For instance, big wins pay more than standard wins, and that goes for both slots and blackjack games. The top three finishers in the tournament win first, second and third-place prizes.
If you check out our Tournaments page, you'll see a list of all the upcoming tournaments classified by game—mainly blackjack and slots games. Each game has a specified timeframe and list of minimum requirements needed to qualify. Minimum requirements often include a number of spins for slots, and hands for blackjack. Keep in mind that for slots, free spins don't contribute to minimum spin requirements. There's also a minimum wager listed for each game in the Tournament Details.
Once you're ready to take part in online casino tournaments for real money, log in to your account, find the tournament you're interested in, and use the "Join" button before the tournament starts. For two minutes after the start time, a "Late Join" button is available.
Tournament play is the same as normal play. When you play online slots tournaments, you spin the reels looking for matching icons. Alternatively, when you play online blackjack tournaments, you focus on making the optimal move for each hand. That being said, wins become even more exciting when taking part in a tournament because they can lead to casino glory. Throughout the competition, all your wins are recorded through a point system, and with each win, your points earned are displayed along with an update regarding whether or not you changed positions in the rankings. Making it to the top of the rankings prompts a gold trophy to appear on screen.
Every win is awarded a certain number of points depending on the size of the win, which is detailed in the Terms and Conditions for the tournament. Points can also be accumulated in other ways; often, you can get one point per spin with slots, and a bonus point for meeting the minimum qualifying requirements in a blackjack tournament. As you accumulate points, you'll see where you rank in the competition.
When the time expires, points are tallied, and the rankings are finalized. The three players with the most points win first, second and third place; each position comes with a unique prize befitting of the accomplishment. To see the prizes before signing up, check the Tournament Details. They could be casino bonuses, rewards points, and even physical items.
Online Casino Tournaments: Why are They so Popular?
Playing casino games from the comfort of home certainly has its perks; you can cozy up on your favorite armchair and play in complete comfort. But online casino gaming does lack the collective feeling of playing alongside other people. That's where tournaments come in. We've received a lot of great feedback from players who enjoy the communal feeling that comes from these competitions. Playing the same game alongside other like-minded individuals fosters a sense of online community at Cafe Casino.
Another reason people enjoy taking part in our tournaments is for the competitive edge. Winning is such a fun part of playing casino games, and if you can win your way to the top of a competitive field and get rewarded for it, the session is even more exciting than non-tournament gaming.
The Benefits of Playing Online Tournaments
Online casino tournaments have both monetary and social benefits. Monetary benefits come in the form of the casino prizes awarded to the top three players of every competition. Not only do you get to keep everything you win while playing in the tournament, you also stand to win even more if you can make it to the top three.
Aside from the monetary benefits, players really enjoy feeling "plugged in" to the online community of Cafe Casino through the organized tournaments. You may notice some people gravitating towards the same games you like. You'll also get to see who won what when checking out the Results page at the end of the day.
What Games can I Play?
Our tournament games include online slots, including jackpot slots, and table games—mainly blackjack. For a complete list of game selection, see the daily schedule listed under 'Tournaments'. This changes over time as new casino games are added and old ones removed.
How do I Win Slots Tournaments?
To win a slots tournament, you need to accumulate more points than the other competitors, while also meeting the qualifications listed in the Tournament Details. Slots tournaments have their own point system based on the size of wins triggered at the reels. Wins are categorized in the following four ways:
• Standard
• Big
• Mega
• Epic
Any win that's less than 10X the original stake is a standard win, which gets 5 points. A win is considered "big" when it triggers a payout that's at least 10X your original stake. This gets 10 points. Mega and Epic wins are at least 20X and 50X the original stake; both earn 25 points.
Ties are inevitable in casino tournaments, which is why we have tiebreaker protocol. If two players have the same number of points at the end of a tournament, the player with more spins gets the win. If two players have the same number of points and spins at the end of a tournament, the player to reach that number of spins first is the winner.
To win a blackjack tournament, you must outrank the other blackjack players by accumulating more points than them, and also meet the tournament qualifications listed in the Tournament Details. Blackjack uses the following point system:
• A push is worth 2 points
• A winning hand is worth 5 points (if you split a hand and win both, you get a total of 10 points)
• A Blackjack (natural) hand is worth 10 points
• Meeting the minimum tournament requirement awards 1 point
Always be sure to check the Terms and Conditions of a tournament before playing for the most up-to-date tournament details.
Can I Play Online Casino Tournaments on Mobile?
Online casino tournaments aren't available in our mobile casino at this point in time. However, you can sign up using your desktop or laptop, and play the actual game from your smartphone. But to see the Tournaments side bar and schedule page, you'll need a computer.
Ever since November 2018, our players have been thoroughly enjoying our online casino tournaments with big payouts. Find out what the hype is all about by signing up for one today. Most take only 10 or 15 minutes from start to finish and give you a chance to double up on wins. Good luck!